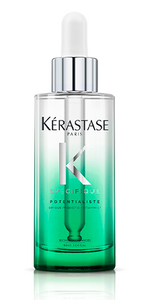 A fast absorbing hair serum with a smooth texture, designed for dry hair.
The first universal defense serum for unbalanced scalps. Powered by microbiome science, with bifidus prebiotics fraction & antioxydant vitamin C.

- Fights scalp imbalances
- Preserves the protective scalp barrier against external damages
- Soothes and calms the scalp
- Leaves the scalp feeling fresh, healthier and stronger
- The roots are lifted up
- Revitalized the scalp.