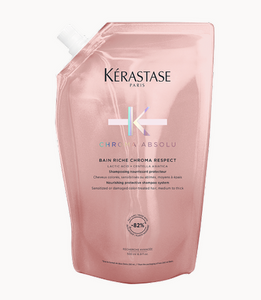 New 500ml refill pouch!
Save 82% plastic vs. 2 X 250ml bains!
Bain Riche Chroma Respect is a rich, nourishing and protective sulfate-free shampoo for colored hair. This hydrating shampoo for colored hair cleanses and nourishes hair while preserving hair color from fading away or discoloring. Enriched with Lactic Acid and Centella Asiatica, this shampoo helps to seal hair fiber porosity, smoothing the surface for maximum color retention and less color induced frizz.