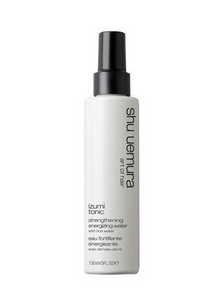 Introducing Izumi Tonic: an anti-breakage rice water treatment. 'Izumi' means 'fountain' in Japanese, which is reminiscent of the Japanese beauty ritual of immersing oneself in the yu-su-ru tradition of bathing hair with rice water.
Infused with rice water and ceramides, Izumi Tonic is suitable for sensitive scalps. Through its light-weight texture and ingredient properties, hair is revealed as smooth, silky, shiny, and healthy.
After applying Shu Uemura art of hair shampoo and conditioner/mask, rinse thoroughly. On towel-dried hair, spray Izumi Tonic evenly and comb through. Do not rinse. Proceed to style hair as desired.