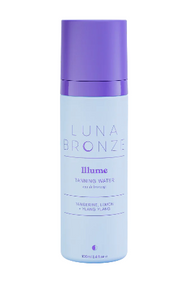 Illume is formulated to hydrate your skin without clogging your pores, so spritz it on before your serum or moisturizer in the morning for the ultimate natural glow!
Like the original, this revamped formula contains a nourishing blend of antioxidants, essential oils and a natural tanning active suitable for even the most sensitive skin. The new formula also retains its non-comedogenic properties, making it perfect for acne-prone skin.

For Illume 2.0, we've also added sodium hyaluronate (hyaluronic acid's cooler / more effective sister), ascorbic acid (Vitamin C), and tocopheryl acetate (Vitamin E) to level up the skincare benefits, as well as increasing the depth of colour the product provides. This, alongside new packaging for a finer mist, means you use less product and achieve faster results - more glow for your buck!
Illume Tanning Water is incredibly versatile and fits seamlessly into your skincare routine. Whether you prefer a minimalistic approach or enjoy a full face of makeup, Illume is perfect for all occasions.