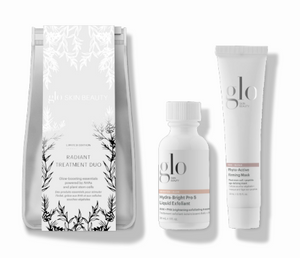 Brighten, firm, and smooth skin with glow-getting ingredients AHAs and luxurious platinum and pearl extracts for refined radiance.

Kit Includes:
● Travel Size Hydra-Bright Pro 5 Liquid Exfoliant 30 mL
● Travel Size Phyto-Active Firming Mask 22 mL
Key Benefits:
● Hydra-Bright Pro 5 Liquid Exfoliant: Brightens, smooths, and refines skin with a powerhouse mix of five
acids at a 10% concentration.
● Phyto-Active Firming Mask: Firms, strengthens, and brightens skin, reducing the appearance of fine lines
and wrinkles with plant stem cells, superfruit complex, and pearl extracts.
How to Use:
Brighten and firm with both products in this kit. Either product can be used alone 2-3 times per week, morning
or night. Or, create your own spa experience by pairing them together—after cleansing, apply Hydra-Bright
Pro 5 Liquid Exfoliant and allow to absorb, avoid the eye area, and do not rinse off. Follow with a thin layer of
Phyto-Active Firming Mask. Leave on for 10 minutes then remove with a damp cloth. Repeat 2-3 times per
week