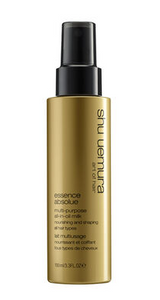 Combining our expertise in hair care and styling in a single multi-purpose hair milk for mistake-proof use on all hair types at every step of the hair care and styling routine. No rules, only benefits. This hair oil, packed with the transformative technology of camellia oil, has a luxurious, lightweight texture with micro-droplets of oil that bring immediately visible benefits.
Great for:

- hair detangling.
- softening hair.
- adding shine and nutrition.
- preventing hair breakage from brushing.
- providing blow drying heat protection.
- controlling frizz on dry and wet hair.
Spray generously onto wet or dry hair to deeply nourish and protect the hair shaft.
Massage gently but thoroughly along your whole hair length, from root to tip.
Use anytime as a hair pick-me-up or whenever hair needs care and styling.