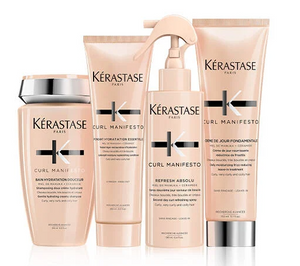 For wavy to curly hair in need of lightweight hydration, more strength and defined waves & curls.
Set Includes:

Bain Hydration Douceur Shampoo, 250 ml
Gentle hydrating sulfate free shampoo infused with Manuka Honey and Ceramide for curly, very curly and coily hair. Gently cleanses scalp and hair removing all dirt, impurities, pollution and buildup. Preserves natural oils for all curly hair types & promotes a healthy hair scalp environment to allow hair growth. Infuses curls with vital hydration with no weigh down, enhancing curl definition and volume.

Fondant Hydratation Essentielle Conditioner, 200 ml
Lightweight moisture replenishing conditioner for curly hair infused with Manuka Honey and Ceramide for all curly hair types. Infuses curls with lightweight moisture with no weigh down and gently detangles even the most stubborn knots. Increases curl body and fullness while enhancing curl bounce and elasticity. Use the full Curl Manifesto hair care routine for fuller looking, perfectly defined and bouncier natural curls while maintaining anti frizz.

Refresh Absolu Hair Spray, 190 ml
Second day curl refresher spray infused with Manuka honey and Ceramide for all curly hair types. Lightweight hair spray instantly rehydrates, revitalizes and reactivates curl definition and softness between washes. Promotes natural pattern formation, enhances bounce and volume while promoting anti frizz and enhancing shine.

Crème De Jour Fondamentale Hair Cream, 150 ml
Daily moisturizing frizz-reducing leave-in curly hair product infused with Manuka Honey and Ceramide for all types of curly hair. Ultra-lightweight hair smoothing cream that provides intense hydration, effortless detangling and heat protection up to 230°C. Promotes anti frizz and preserves curl definition by helping shield the hair from up to 80% humidity. Use Curl Manifesto routine to reveal healthy looking and soft curls, with great definition and bounce.