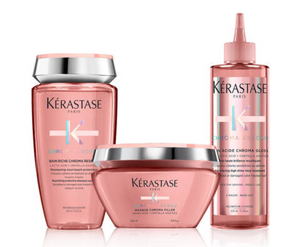 Intensive coloured hair care that fights the three levels of colour-induced damage; hair porosity and breakage, color induced frizz, & color dullness. A tailor-made routine with all the coloured hair essentials you need.
This set includes:
Bain Riche Chroma Respect Shampoo (250mL):
Bain Riche Chroma Respect is a rich, nourishing and protective sulfate-free shampoo for colored hair. This hydrating shampoo for colored hair cleanses and nourishes hair while preserving hair color from fading away or discoloring.

Masque Chroma Filler (200mL):
Masque Chroma Filler is a rich anti-porosity, deep filling masque developed for all types of sensitized or damaged color treated hair, mostly adapted for medium to thick hair.
This sensorial light rose rich cream penetrates deep into hair fiber to fill porosity and strenghten hair for a healthier, softer and shinier color.

Soin Acide Chroma Gloss (210mL) :
Soin Acide Chroma Gloss is a resurfacing high shine rinse treatment for damaged hair or color-treated hair. This hero product has a fluid transparent texture that transforms into a white cream when activated under water. Its formula deeply penetrates the hair and increases the strength of hair fibers up and increases hydration.