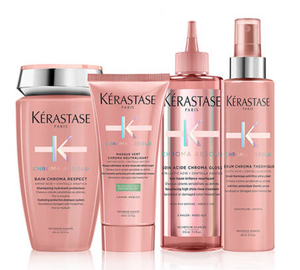 Healing acid care that fights the three levels of colour-induced damage. A tailor-made routine to neutralize unwanted red tones and provide intense surface care.
This set includes:
Bain Chroma Respect (250mL) :
Bain Chroma Respect is a gentle hydrating protective shampoo and a shampoo for damaged hair, for all types of sensitized or damaged color treated hair, mostly adapted for fine to medium hair thickness. This pale rose creamy gel texture deeply hydrates and cares for fiber, while respecting and preserving hair color from fading away.
Masque Vert Chroma Neutralisant (200mL) :
Masque Vert Chroma Neutralisant is an intense color-depositing hair masque with green direct dyes to instantly neutralize red undertones, for a cooler, darker brunette hair color. This dark emerald cream is so rich in pigments that it requires the use of gloves for a seamless in-shower application. Just as blondes need violet care to neutralize yellow undertones, brunettes need green pigments to get rid of red & copper brassiness.
THIS PRODUCT IS NOT SUITED FOR BLONDE OR RED HAIR.


Soin Acide Chroma Gloss (210mL) :
Soin Acide Chroma Gloss is a resurfacing high shine rinse treatment for damaged hair or color-treated hair. This hero product has a fluid transparent texture that transforms into a white cream when activated under water. Its formula deeply penetrates the hair and increases the strength of hair fibers and increases hydration.


Serum Chroma Thermique (150mL) :
A universal anti-frizz antioxidant thermic leave-in serum for all sensitized or damaged color-treated hair. A white fluid texture enriched with antioxidants properties, lactic acid & centella asiatica helps to preserve color by completely shielding fiber against all types of external aggressors: UV induced damage, humidity, heat and oxidative stress. Thermo-protection up to 230°C.