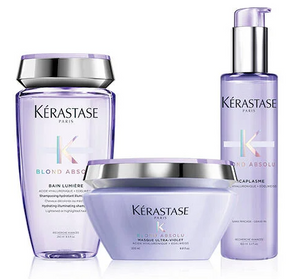 For those who dare highlights and need high neutralisation and high care. You love blonde but you're laid back about it. You want low maintenance color and you also enjoy the very chic look of contrasting grown-out roots.
Your routine includes:
Bain Lumière Shampoo – Hydrating illuminating shampoo.
Masque Ultra-Violet Purple Hair Mask – Anti-brass blonde perfecting purple mask.
Cicaplasme Serum – Universal fortifying heat-protecting serum.