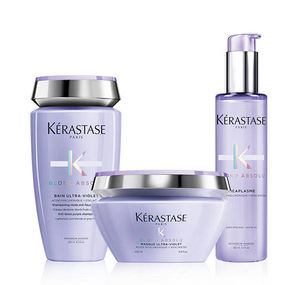 For those who dare extreme lightening and need highest levels of neutralization and care. Lightened to the highest degree, your hair is highly sensitized. This routine nourishes and protects your hair from yellow tones due to oxidation and sun or heat exposure.
Your routine includes:
Bain Ultra-Violet Purple Shampoo – Anti-brass purple shampoo.
Masque Ultra-Violet Purple Hair Mask – Anti-brass blonde perfecting purple mask.
Cicaplasme Serum – Universal fortifying heat-protecting serum.